The World Center for Birds of Prey is the heartbeat of The Peregrine Fund's education program. Situated in one of the most densely populated raptor regions in the world, it is an international destination for 50,000+ people a year.
Visitors experience raptors up close and personally through live, daily raptor demonstrations and interactions with staff, volunteers, and exhibits that create a deeper understanding of these incredible birds and our role in conserving them for future generations.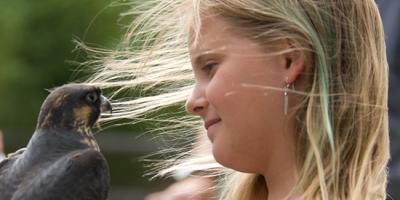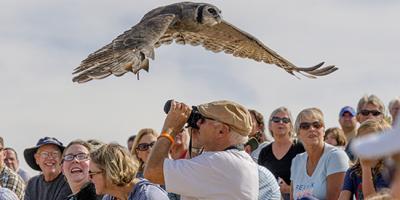 Jim Shane
The Peregrine Fund's vision is to create a world where birds of prey are valued by all humans. Our Visitor Center serves as the foundation for empowering guests to save raptors and find solutions that protect wild places we all need for survival.
At the World Center for Birds of Prey, visitors come nose-to-beak with raptors from around the world while learning about conservation work The Peregrine Fund leads on a global scale to save each species. When people have the opportunity to experience one of our avian ambassadors up close, an emotional connection can form that changes attitudes toward conservation in a positive way.
The recovery story of the Peregrine Falcon is one of the greatest conservation success stories of all time. It is a story of people coming together to tackle an environmental problem that affects us all. The message is clear—we have the power to save species when we work together. The World Center for Birds of Prey has shared this empowering message with nearly one million visitors since opening our doors in 1994.
As we celebrate our 50th anniversary in 2020, The Peregrine Fund is renewing its commitment to education and public engagement. The World Center for Birds of Prey is expanding its footprint to showcase our international conservation work in partnership with local communities and increase exposure to native raptors and conservation efforts that promote coexistence between humans and the natural world, with wise stewardship of the land.
To learn more about our educational expansion, please contact Heather Meuleman, Campaign Director, at hmeuleman@peregrinefund.org or 208.362-8240.