An Update from Dr. Darcy Ogada, Africa Program Director
"In October, we held a five-day workshop to identify areas for improvement in the fight against wildlife poisoning and to determine a path forward. The workshop brought together wildlife veterinarians from the Kenya Wildlife Service (KWS), Wildlife Research and Training Institute (WRTI), and their conservation partners, and six Kenyan laboratories that test suspected poisoned samples. Two major challenges were identified: the cost of testing samples, and the fact that a range of Kenyan laboratories have the equipment and capacity to test samples, but not the legal mandate to do so. Discussions focused on forming a Technical Working Group to solve these issues. As a result of this workshop, laboratories and veterinarians are better connected with better understanding of the challenges faced by each, which will help them work together to overcome these obstacles.
"In November, I traveled to Victoria Falls, Zimbabwe to attend the Pan-African Ornithological Congress (PAOC) and give two presentations. The first presentation provided an update on our progress towards fulfilling the goals of the Multi-species Action Plan to Conserve African and Eurasian Vultures, a convention under the Convention of Migratory Species. The second presentation focused on our Coexistence Co-op project in northern Kenya and the aforementioned wildlife poisoning workshop. The PAOC was well-attended, and there were an impressive four symposia focused on African vultures! Those tracking vultures in Africa held a productive meeting to promote collaborating more effectively to better share tracking data across the continent. I also attended a meeting to forward collaboration on research and conservation initiatives to halt further declines of Secretarybirds across Africa. While I was there, I was able to visit our colleagues at Vic Falls Wildlife Trust to see their facilities and share experiences.
"Back in the field in northern Kenya, we are currently collaborating on a project led by Mugie Conservancy to provide safe food for vultures by establishing a 'vulture restaurant.' Recently a two-day stakeholder meeting was held at Mugie as part of the permitting process, and the project is set to begin shortly. We also conducted two helicopter surveys of Critically Endangered Rüppell's Vulture breeding cliffs, and are compiling this data now.
"We are about to begin our second year of an International Union for the Conservation of Nature Save Our Species grant in collaboration with Lion Landscapes, our partners in the Coexistence Co-op. Despite significant challenges due to a severe long-term drought and other emergencies, the Co-op training team successfully conducted 56 day-long trainings that involved 782 community members, conservancy rangers, and community health volunteers. Trainings focused on the importance of predators and scavengers, building improved livestock bomas (corrals), and health/environmental hazards associated with using poison to kill wildlife. The number of predator-proof bomas built by trainees in Laikipia stands at 600 this year, despite losing a good number of bomas when pastoralists were forced to migrate due to drought.
"Thanks always to our many, many partners and supporters. There's too many to list here, but we're grateful for each and every one of you. On behalf of our small team, Martin, Alfred, Geraldine, Alex, and myself, thank you for your continued support!"
Learn more about our work to conserve African vultures.
Photos from Our Northern Kenya Update
Veterinarians Visiting the Kenya Bird of Prey Trust Rehabilitation Facility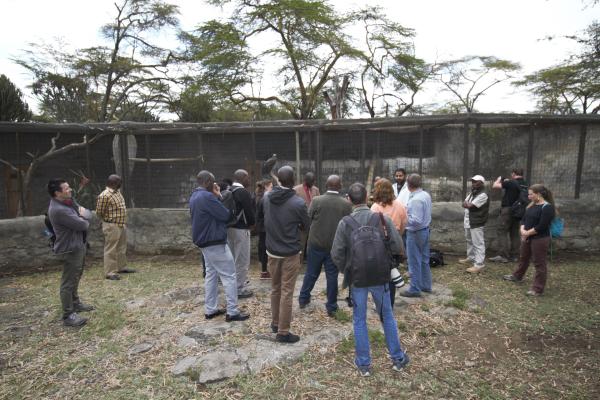 Martin Odino
Photos from Our Northern Kenya Update
Vets Practicing Administration of Avian Medicine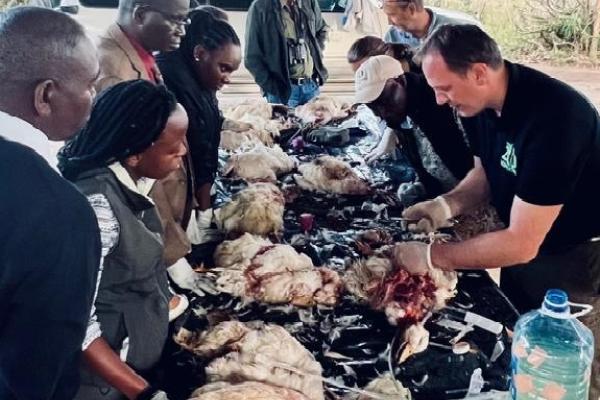 James Hassell
Photos from Our Northern Kenya Update
Workshop Stakeholders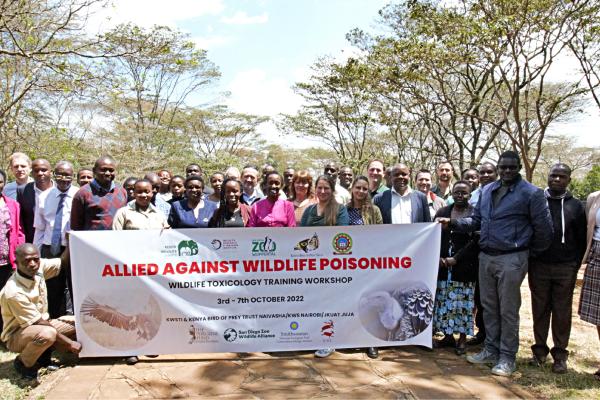 Caroline Moore
Photos from Our Northern Kenya Update
Skills Training of Vets in Avian Medicine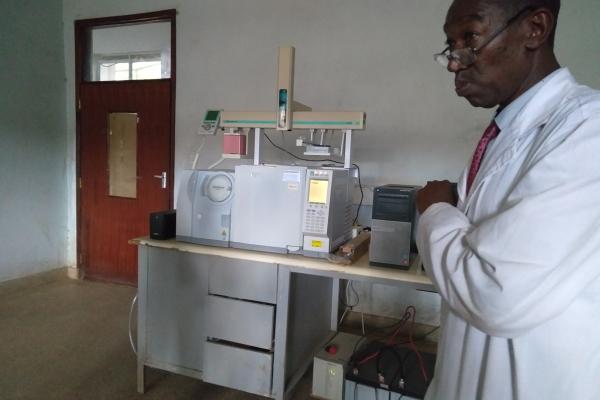 Photos from Our Northern Kenya Update
Laboratory Skills Training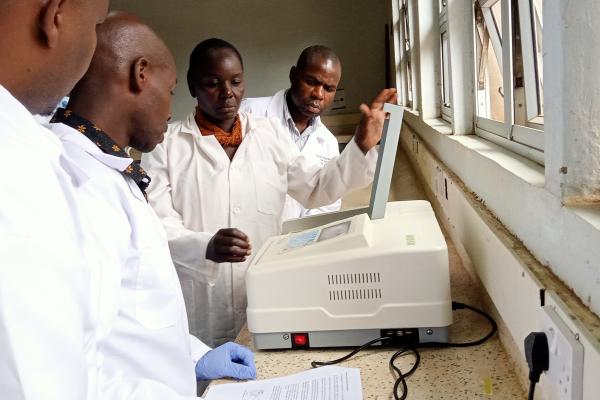 Darcy Ogada
Photos from Our Northern Kenya Update
Laboratory Skills Training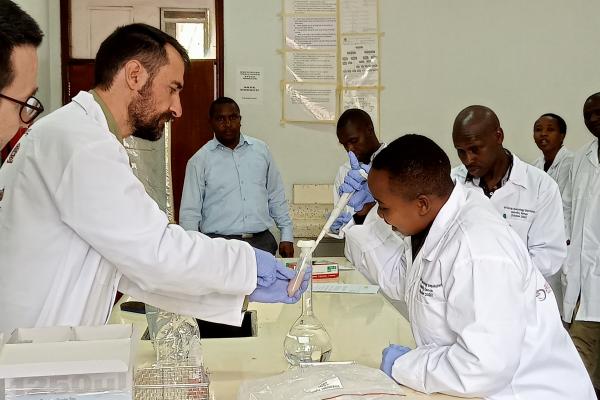 Darcy Ogada
Photos from Our Northern Kenya Update
Pan-African Ornithological Congress (PAOC)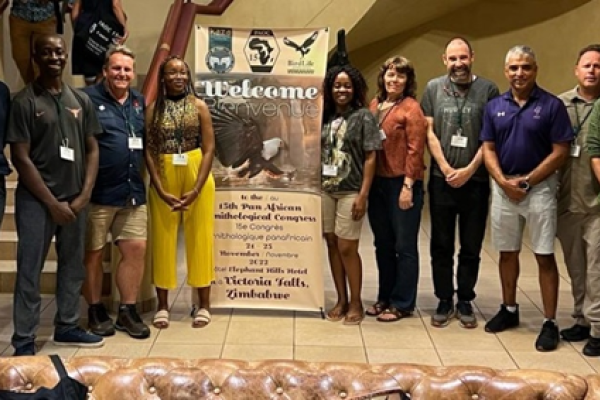 Salisha Chandra
Photos from Our Northern Kenya Update
Darcy Ogada Presenting at PAOC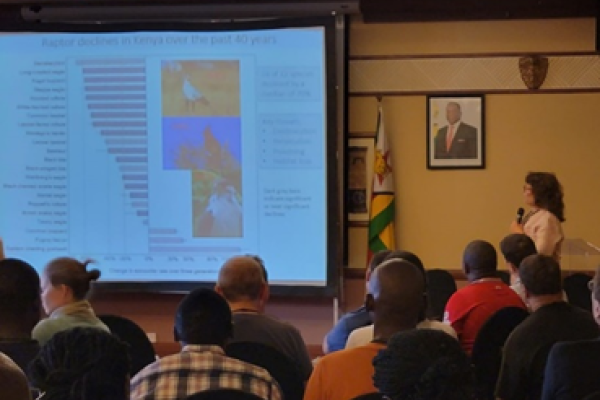 Salisha Chandra 
Photos from Our Northern Kenya Update
Vulture Surveys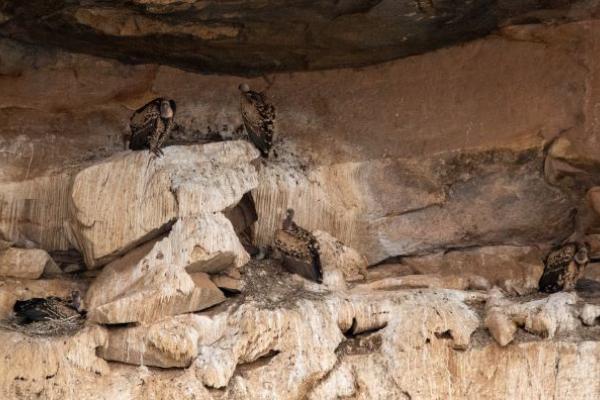 Martin Odino
Photos from Our Northern Kenya Update
Stakeholders Choosing Site for Vulture Restaurant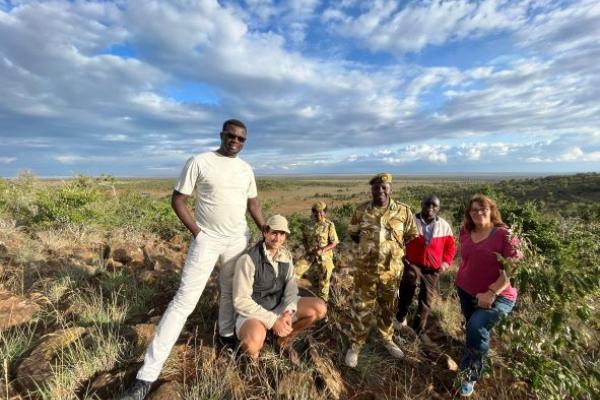 Josh Perrett
Photos from Our Northern Kenya Update
Coexistence Co-op Training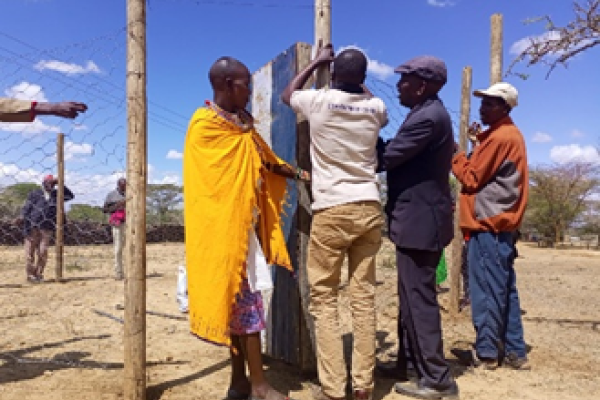 Martin Odino