2020 Calendar: celebrate 50 years with us!
Receive one free when you join.
Ordering offline? Use this form.
| | |
| --- | --- |
| Scientific Name: | Asio otus |
| Population Status: | Least Concern |
| Body Length: | 13-16in (33-40.6cm) |
| Wingspan: | 3 to 3.5ft (1m) |
| Weight: | 8-16oz (226-453g) |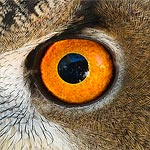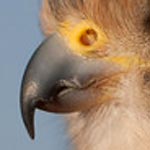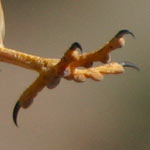 Did you know?
Long-eared Owls often roost communally during the winter months.
The Long-eared Owls "ears" are not ears at all. Scientists believe these feathered tufts on top of the heads do a serve a purpose besides just making the owl look super cute! Ear tufts can be erect or laid flat, as a way to communicate. They also help the bird's camaflouge.
One study showed that over 95% of the Long-eared Owl's diet is composed of rodents
---
Photos needed! If you are a photographer and would be willing to donate photos of for use on this site, please email us.