Group Tours
Educational tours can be scheduled for schools or groups of 15 or more people.
An educational tour includes a visit to all of our exhibits in the Biology/Ecology Wing, the Conservation Wing, the Discovery Room, as well as an introduction to our resident education birds, perfect for those who want to see a little bit of everything. A tour lasts approximately 90 minutes (one hour for kindergarten) focus on the newly adopted Idaho Content Standards for Science and is specially tailored to each group.
Call or email Curtis Evans to schedule a tour group and allow for alteast two weeks notice, but also be aware that spring tours are often booked two to three months in advance.
We are currently scheduling tours for the summer of 2019 and the 2019-2020 school year.
Group Educational Programs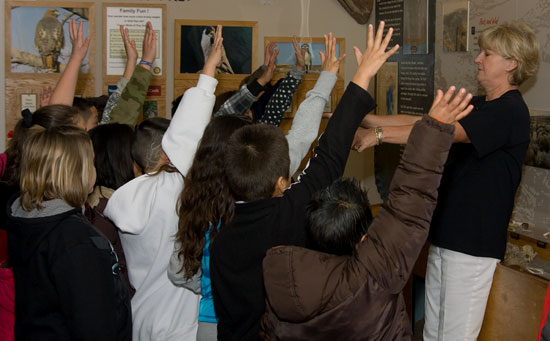 The World Center for Birds of Prey hosts guided tours year round. School tours are designed to meet curricular objectives and general group tours are geared for a wide variety of audiences.
School Groups
All education programs at the Velma Morrison Interpretive Center are designed to:
Be developmentally appropriate
Meet state required standards and curricular objectives
Emphasize active participation of students
Feature our fascinating raptors as a "lens for learning"
Our live birds of prey are front and center with every tour and they serve to make science come to life! If your school group is focusing on a particular topic that you would like us to elaborate on, please let us know. We generally emphasize the following life science topics based on grade level:
Grade 1 - Structure, Function, and Information Processing
Grade 2 - Habitats
Grade 3 - Life Cycles, Adaptations, Heredity
Grade 4 - Animal Structures, Biomes of Idaho
Grade 5 - Ecosystems
Grade 6 - Organisms and their Environments (Ecology)
Grades 7-12 - Lessons focus on the practical application of the scientific method.
College and Specialized Tours are tailored to meet the needs of the instructors and students. Conservation biology and careers in wildlife related fields are often the highlights.
Students and school personnel for all school groups of 15 or more that schedule in advance are admitted free during the school year (September - June). Regular rates apply outside of the school year.
Request a school tour, click here.
Home School Groups
Join your home school community in learning about birds of prey with The Peregrine Fund. During each event, lessons will incorporate the life sciences, with special emphasis on adaptations, habitat, and wildlife conservation. The Peregrine Fund is a global leader in raptor conservation. We will explore exciting case studies, including the successful recovery of the Peregrine Falcon and our ongoing efforts to save the critically endangered California Condor. Live birds of prey will be featured in each session.
Visit Peregrinefund.org/calendar for up coming Home School Days.
General Interest Group Tours
Explore the fascinating world of raptors with an expert guide. Groups experience a live bird presentation, and meet a host of live falcons, hawks, eagles, owls, and vultures. Emphasis is placed on the conservation of birds of prey and their habitats. Current highlighted projects include the recovery of the California Condor and the Northern Aplomado Falcon. Guided Tours last 90 minutes and are available for groups of 15 or more. Group rates apply. Tour availability is not guaranteed as our schedule fills up fast! Request a group tour, click here.