Volunteer at The World Center for Birds of Prey
Thank you for your interest in volunteering at The Peregrine Fund's World Center for Birds of Prey! Volunteers are the foundation of our education program. The volunteer program at The Peregrine Fund is crucial to the existence of the organization. With the employment of only four full-time staff members, the volunteer program provides the majority of the staffing at the Velma Morrison Interpretive Center.
Although their backgrounds, interests, occupations, and ages differ widely, our volunteers all share a love and concern for conservation of nature. They support The Peregrine Fund by contributing their time and talents to the organization through a variety of positions. The close bond between volunteers affords many lasting friendships.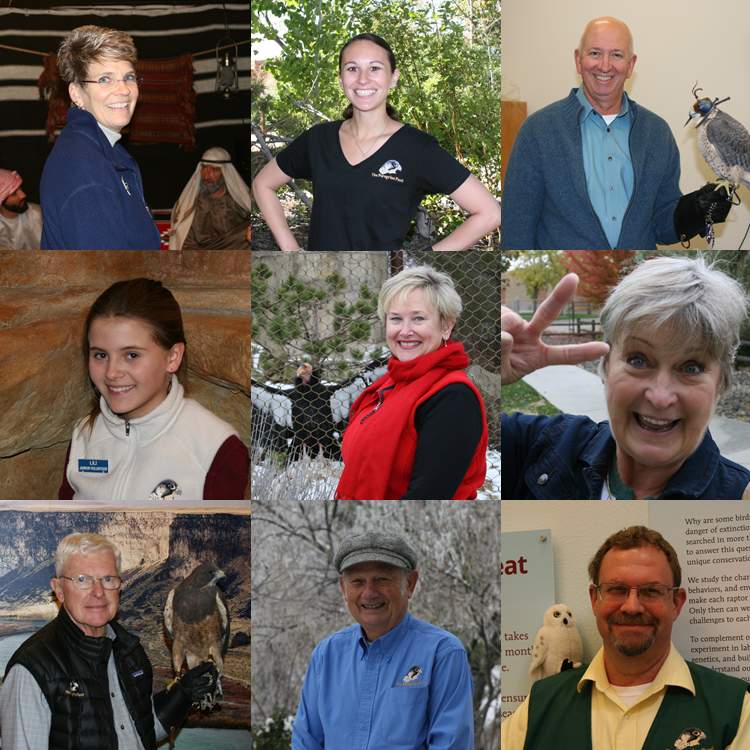 For more information, contact:
Volunteer Coordinator
Main Phone:
208-362-8687
Direct Phone:
208-362-8262
Email:
gordon.jessica@peregrinefund.org
Country:
USA
Volunteering
Raptor High
The Peregrine Fund's summer youth volunteer program focuses on high school students teaching raptor biology and ecology to our guests. Click here to learn more and apply online.
Education
Volunteers are the foundation of our education program. There are three main tasks volunteer perform at the World Center for Birds of Prey; Interpretive Center Ambassador, Docent, and Tour Guide.
Research Library
Our Research Library has an occasional need for assistance from volunteers with organizing our vast array of books, journals and other holdings.
Check back for upcoming Research Library projects.
Conservation Project Volunteer Opportunities
Ridgway's Hawk Conservation: Hack site attendant and Field Study Volunteer
See details at peregrinefund.org/job-display/27