President's message
"In the long history of humankind (and animal kind, too) those who learned to collaborate and improvise most effectively have prevailed." – Charles Darwin
Science tells us that the ability to adapt to change is essential for survival, even as we humans resist change at every turn. From its earliest days, The Peregrine Fund has deliberately managed to stay small, nimble, and flexible. I credit that adaptability for our success – and 2014 promises a lot more of both.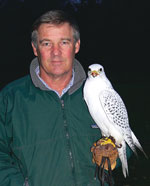 Among the most heart-breaking transitions in the past year was the loss of two good friends and board members. Frank Bond, a Peregrine Fund founder and our legal counsel, provided invaluable advice and unwavering support for more than 40 years. We also lost Velma Morrison, a Boise philanthropist who enabled us to open the visitor center that bears her name. Their long and faithful commitment to raptor conservation will be greatly missed.
The most sweeping transition is already underway in our recovery program for the Aplomado Falcon, an endangered species that occupied the American Southwest until the 1950s. For a quarter century, we worked to restore this beautiful raptor through captive breeding and releases to the wild. As a result, a small but self-sustaining population is now thriving along the Gulf Coast of Texas. We have ended captive breeding and releases and, to ensure the future well-being of these birds, shifted our focus to restoring the wide-open grasslands habitat the birds need to survive. This brings us a step closer to seeing this falcon removed from the U.S. Endangered Species List. We have honed our breeding and release skills over 43 years and they remain a valuable strategy for restoring California Condors and Orange-breasted Falcons.
As I look ahead, I see our work through a lens that increasingly encompasses not just specific species but landscapes and ecosystems. Twenty-five years ago, we began taking a big picture approach in Madagascar, where we have helped protect large swaths of habitat for birds of prey and all the plants and animals they need to survive, including the people who coexist with them. Our newest project, which will examine the effects of climate change in the Arctic and its effects on the Gyrfalcon, adopts a similar landscape approach to solving exceedingly complex challenges.
We adapt to new challenges with innovative problem-solving. We are human, so the transition is not easy, but I am confident that we are facing the future head-on, thanks to donors and supporters who inspire us daily with their loyalty, passion, and generosity.