The Peregrine Fund was founded in 1970 to restore the Peregrine Falcon, which was removed from the U.S. Endangered Species List in 1999. That success encouraged the organization to expand its focus and apply its experience and understanding to raptor conservation efforts on behalf of more than 100 species in 65 countries worldwide, including the California Condor and Aplomado Falcon in the United States. The organization is non-political, solution-oriented and hands-on, with a mission to:
Restore rare species through captive breeding and releases
Improve capacity for local conservation
Conduct scientific research and environmental education
Conserve habitat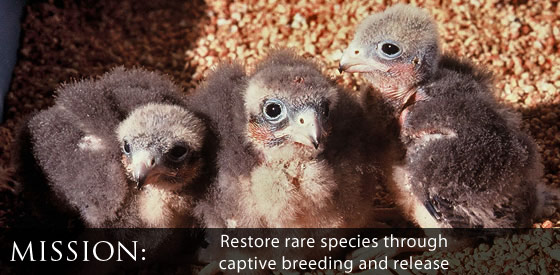 Restore rare species through captive breeding and release
Our skill in producing endangered birds of prey in captivity and releasing them to the wild in significant numbers comes from 40 years of hands-on work by professionals who are passionate about raptors.
We currently are focused on California Condors with a propagation and release program that is proven, innovative, and adaptive. The result is a growing flock of California Condors in the canyonlands of northern Arizona and southern Utah. A former propagation and release program for Aplomado Falcons has produced a thriving population in South Texas. Once these species achieve self-sustaining populations, they, like the Peregrine Falcon, will be removed from the U.S. Endangered Species List.
The Peregrine Fund supports and advises similar efforts around the world. The success of the captive breeding and release programs that we operate and support is further proven each time a young captive-bred bird takes its first flight, captures its first prey, and disperses to take its rightful place in the wild.
Improve local capacity for conservation
The biology and conservation status of hundreds of bird-of-prey species remain a mystery, even today. To fill the void, The Peregrine Fund has supported more than 100 students pursuing degrees in raptor biology.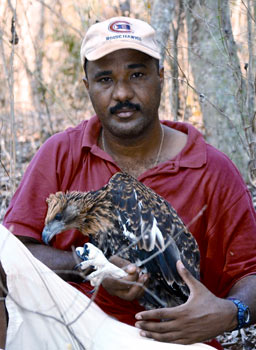 We are proud of people like Lily-Arison René de Roland, director of our Madagascar operations, who earned a post-doctorate title of professor, the first Malagasy to receive this honor among all non-governmental conservation organizations in Madagascar. Lily also was named a 2010 Conservation Hero by the Disney Wildlife Conservation Fund, one of only six people in the world to receive this honor. Lily is one of 20 people we have supported, trained, and educated to earn advanced science degrees in Madagascar.
Through our Neotropical Raptor Science and Student Education Program, students from Mexico to Argentina document the biology and behavior of birds of prey. In Africa, students are studying little-known birds of prey, including vultures whose numbers have dropped dramatically due to the misuse of toxins. More than 1,600 field assistants at raptor release and recovery sites around the world have gained hands-on training and valuable experience, resulting in a heightened respect for birds of prey and a greater understanding of the need to conserve them.
After graduation, many of the students supported by The Peregrine Fund will go on to influential careers in conservation and apply their education, experience, and expertise to issues facing birds of prey and biodiversity in their native countries.
Conduct scientific research and environmental education
Research and education are the cornerstones of all we do to conserve birds of prey. Here are some of our recent projects:
In early 2011, The Peregrine Fund convened an international conference focused on climate change and its effects on Gyrfalcons, ptarmigan, and other wildlife in the Arctic. More than 120 researchers, scientists, and other conservationists from Russia, Iceland, Greenland, Scandinavia, and other nations discussed the status and future of the Arctic region.
In the wake of the 2010 oil spill in the Gulf of Mexico, The Peregrine Fund participated in a project to capture, band, and sample blood for analysis from migrating Peregrine Falcons. The data will be used to determine whether chemicals related to the spill are having long-term effects, much the way the falcons alerted humans to the consequences of DDT a half-century ago.
In 2010, an outdoor exhibit for a pair of California Condors opened to the public, drawing our largest-ever crowd to the World Center for Birds of Prey. Indoors, we began adding beautiful murals in the bird chambers to showcase each bird's native habitat.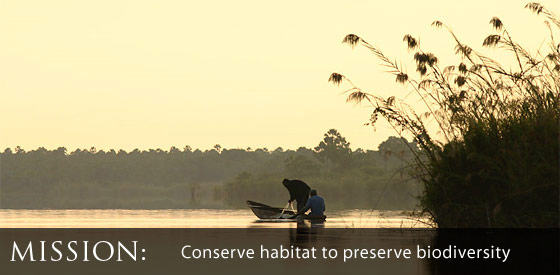 Conserve habitat to preserve biodiversity
From the melting sea ice in the Arctic to the clear-cutting of rainforests in the Philippines, birds of prey are losing their homelands at an alarming rate. Birds of prey are effective indicators of environmental degradation because their place near the top of a delicate food web works sustainably only if all the pieces and parts are in their proper place.
In Madagascar, we are assisting with permanent protection for three areas of habitat for the critically endangered Madagascar Fish Eagle, the endangered Madagascar Serpent-eagle and other wildlife. In Arizona, vast tracts of excellent habitat for critically endangered California Condors are potentially unsafe if the scavenging birds ingest fragments of lead from spent ammunition, so we participate in hunter awareness efforts to encourage voluntary use of non-toxic ammunition. In Texas, we have helped enroll more than 2 million acres of suitable Aplomado Falcon habitat in the Safe Harbor program, which extends protections to both falcons and landowners.
Habitat protection is sure to be one of the most confounding problems facing humans in the 21st century. The Peregrine Fund's experience and expertise in working cooperatively with landowners can contribute to solving problems, finding solutions, and leading the way to a future that preserves the world's incredible diversity of birds of prey for future generations.