2020 Calendar: celebrate 50 years with us!
Receive one free when you join.
Ordering offline? Use this form.
| | |
| --- | --- |
| Scientific Name: | Strix varia |
| Population Status: | Least Concern |
| Body Length: | 19-20 in (48-51 cm) |
| Wingspan: | 3.5 ft (1 m) |
| Weight: | 1.5 to 2 lbs (0.68-1 kg) |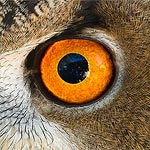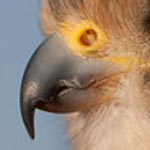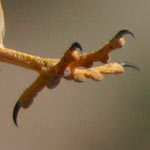 Did you know?
The Barred Owl is quite a vocal bird. Apart from its typical call, it makes a number of other interesting vocalizations from screams and hoots and barks, to one particular call that sounds quite a bit like laughter.
Scientists believe that Barred Owl pairs mate for life.
Scientists estimate that Barred Owls can live about 10 years in the wild. In captivity, some Barred Owls have lived to be over 30 years old.
A Barred Owl's legs and part of its toes are covered in feathers!
---
Photo gallery
Photos needed! If you are a photographer and would be willing to donate photos of for use on this site, please email us.