Condor Cliffs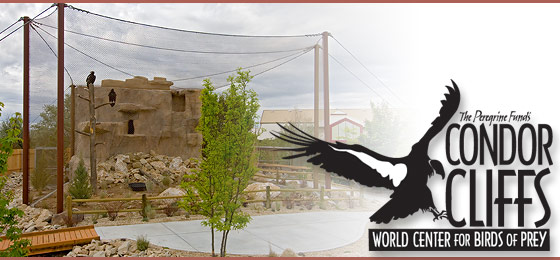 Our Condor Cliffs exhibit offers visitors a rare close-up look at the magnificent California Condor, one of the world's most endangered birds, in a natural outdoor setting. Using state-of-the-art materials, the 25-foot-tall structure allows unobstructed views of the huge birds and their 9½-foot wingspans. A cliff scene, complete with a cave-like nesting structure at the rear of the exhibit, mimics the condors' natural habitat in remote locations like the Grand Canyon region.
Condor Cliffs is the one of the few places California Condors are on display in North America outside of California. The exhibit features interpretive panels detailing the dramatic decline, the subsequent ongoing recovery of California Condors and the important role they play as nature's recycling and clean-up crew.
The World Center for Birds of Prey is home to the world's largest captive flock of California Condors. About 50 condors produce and rear offspring that are released each year at The Peregrine Fund's release site in northern Arizona near the Grand Canyon.
The Peregrine Fund's captive-breeding program is a partnership with the San Diego Zoo's Wild Animal Park, Los Angeles Zoo and Oregon Zoo. The cooperative effort promotes genetic diversity and creates healthy populations of wild condors in Arizona, California and Mexico by transferring eggs among the facilities and sending young birds to appropriate release sites.
Condor Cliffs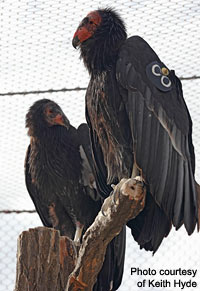 Saving California Condors from extinction takes time, hard work, and money. The food bill alone for our captive flock of California Condors is $86,000 per year. Support condor recovery by making a donation today!
Exhibit details:
Size: 2,760 square feet.
Materials: 2-inch diamond-shaped, stainless steel mesh
The unique design incorporates the use of only six steel columns and a cable roof structure to provide maximum viewing from three sides.
Large boulders, trees, ledges and overhangs provide natural perching areas.
The tall and deep design allows adequate room for the condors to stretch, fly and show off their impressive wingspan
Did you know?
In the 1980s, just 22 California Condors remained on Earth and captive breeding programs were established.
About 350 California Condors now exist, with more than half of them flying free in Arizona, California and Mexico.
Lead poisoning is the primary cause of condor deaths in the wild. The birds ingest tiny fragments of lead from spent ammunition in animals killed with lead bullets.
---

List of plants found at Condor Cliffs