2020 Calendar: celebrate 50 years with us!
Receive one free when you join.
Ordering offline? Use this form.
| | |
| --- | --- |
| Scientific Name: | Sarcogyps calvus |
| Population Status: | Critically Endangered |
| Body Length: | 29-33 in (76-86 cm) |
| Wingspan: | 78-89 in (199-227 cm) |
| Weight: | 8-12 lbs (3.7-5.4 kg) |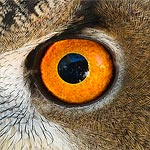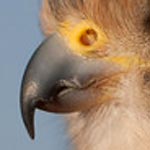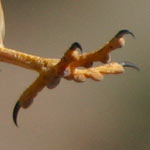 ---
Research Resources
Did you know?
The Red-headed Vulture's scientific name is Sarcogyps calvus. "Calvus" means "bald" in Latin. The species got this name because of the large, red bare patch of skin on its head and neck.
Throughout its range, the Red-headed Vulture is known by many different names. To name just a couple of exampes, in Lepcha, it is called "Loong nong loong," and in Hindi, it is is called "Bhaonra", "Raj gidh", or "Mulla gidh". There are several diferent languages spoken throught the region, and many of them have a name for this vulture.
Adult male Red-headed Vultures have white (or pale) eyes. Adult females have dark eyes.
---
Photos needed! If you are a photographer and would be willing to donate photos of for use on this site, please email us.