Trish Nixon
Outreach Specialist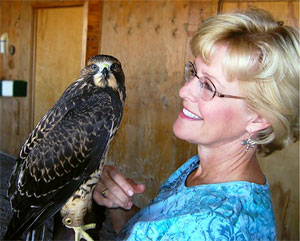 Former staff, but no longer an employee of The Peregrine Fund.
---
Trish began her association with The Peregrine Fund in 1998 and is now the Raptor Specialist at the Velma Morrison Interpretive Center. In this capacity, she is the primary caretaker and trainer for the 17 hawks, owls, eagles and falcons used in the Education Program. Trish travels to a variety of schools as well as public and private gatherings, giving special presentations focusing on programs of The Peregrine Fund and the biology, ecology and habits of birds of prey in general. She is usually accompanied by one of The Peregrine Fund's education birds, giving audiences the unforgettable opportunity to see a live bird of prey "up close." Teaching volunteers to help handle and care for the education birds is another of Trish's duties.
Her past professional experience in public speaking and her passion for the conservation of wild raptors help Trish successfully share her knowledge with audiences of all ages.
Trish and her husband, Fred, spend their spare time camping, hiking, and observing raptors and wildlife in the back country and canyons of Idaho.