In Memoriam: Morlan W. "Morley" Nelson
1916 – 2005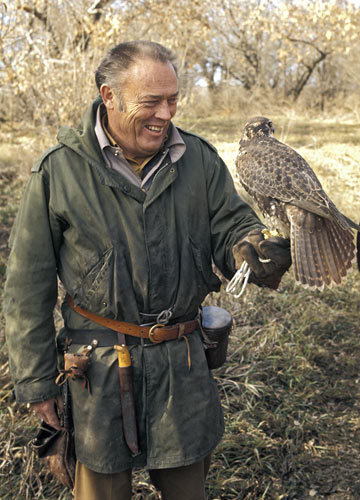 On 22 February 2005 we lost Morley Nelson, a longtime friend and Board member of The Peregrine Fund. He was 88. Although space prevents our detailing Morley's many accomplishments, we provide the following abbreviated list.
Identification and establishment of the Snake River Birds of Prey Area—It was Morley who, after having returned home as a decorated war hero, recognized the unique biological importance of that area for birds of prey and effectively worked for its protection and various designations, with it eventually being established by the Congress as a National Conservation Area.
Changing the attitude of Americans toward birds of prey—Morley, in cooperation with friends, film makers, government, and others, helped establish regulations protecting birds of prey and changed the attitude of Americans toward raptors, reducing human persecution.
Preventing electrocution of raptors—Morley recognized the long-standing problem of raptor electrocution and associated power outages, and even resulting wildfires. In cooperation with Idaho Power Company, and later other utilities, he accomplished research, helped develop guards, and redesigned distribution power lines to reduce electrocution. These efforts have continued and are now in effect globally.
Establishing the World Center for Birds of Prey in Boise, Idaho—It was at Morley's insistence that when looking for a location to establish a headquarters, The Peregrine Fund considered and eventually chose Boise, Idaho. Morley worked with Governor John Evans, Mayor Dick Eardley and the Boise City Council, the Bureau of Land Management, Idaho Game and Fish Department, President John Keiser of Boise State University, and Boise-based corporations and local citizens to find a location for the facility and to provide other assistance to bring The Peregrine Fund to Idaho.
Researcher—Morley not only accomplished research on birds of prey, but as a trained hydrologist and snow survey supervisor for the U.S. Department of Agriculture's Soil Conservation Service he established snow surveys to forecast the water supply for Idaho and the Columbia Basin, benefitting farming, hydro-electric utilities, and others dependent upon water run-off. His achievements appear in college hydrology textbooks.
Film maker and actor—Morley participated in making, and co-starred in, numerous wildlife films throughout his career. Through his own company, Tundra Films, he produced what are now considered classic films on falconry and birds of prey. Working with his children's company, Echo Films, he went on to participate in production of many other films. These films were viewed by many millions of people and influenced their understanding and concern for our natural world.
These are measurable achievements, any one of which is significant. The immeasurable contributions made by Morley may, however, actually be the most important. His actions and enthusiasm for nature and life inspired untold numbers of people, both young and old. We will never know how many people he influenced have and will go on to careers contributing to nature conservation in this nation and internationally.
In honor of Morley and his contributions to the Nation and birds of prey, at the recommendation of The Peregrine Fund, and with the support of the community, on 12 April 2005 the Idaho Congressional delegation introduced a bill in the Congress of the United States to establish the Morley Nelson Snake River Birds of Prey National Conservation Area. The canyon he loved should carry his name and mark Morley's place in history among the great conservationists of the 20th Century.