Delora Hilleary
American Kestrel Partnership Coordinator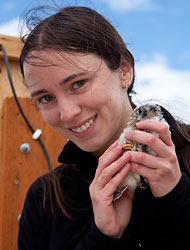 As a Colorado native, Delora developed a passion for birds and wildlife before she could even remember. She spent much of her childhood outside, and decided early on that she wanted to be an artist and a biologist. As a result she took her first raptor-related internship in high school, and has kept working towards her goal to be a raptor biologist ever since. In 2011, she earned her Bachelor's degree in Biology from Willamette University, OR.
In 2012, she joined The Peregrine Fund as a volunteer hacksite attendant to raise Ridgway's Hawks in the Dominican Republic, successfully rearing three fledglings to independence. Inspired by this experience, she moved to Boise to be available to The Peregrine Fund in case an opportunity to further her passion for raptor conservation appeared. It didn't take long.
Shortly afterwards Delora found herself working as both the American Kestrel Partnership's coordinator and as the field biologist for surveys at a nearby wind farm. She now looks forward to a long career of working with birds of prey.
In her free time she enjoys hiking, biking, birding, skiing, archery, tending flowers, cuddling with her cat, and exploring the new state she just moved into.
media pending